About Canadian Spray Foam Solutions Ltd.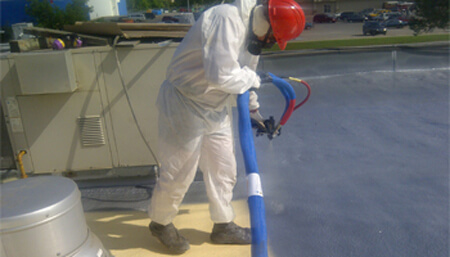 The Canadian Spray Foam Solutions Ltd. ownership group has over 27 years of experience in this specific industry and has a vast knowledge and great understanding of all aspects of sprayed polyurethane foam (SPF) applications. With the recent surge into Green and LEED certified products, we have a viable, practical, and cost-effective solution to significantly reduce the impact on the environment–all while saving the customer money on a year-round basis through energy efficiencies. Let's face it–it is time to quit sending everything to the landfill and spending unnecessary bottom-line dollars on utility costs. With SPF roofing applications, over 90 percent does not hit the landfill, and immediate utility savings are realized. Our areas of expertise include:
SPF Roofing
Residential
Blown-in Insulation
Re-coat Division
Sandblasting Services
What is the Goal of Canadian Spray Foam Solutions Ltd.?
It's really quite simple–we want to provide you with the overall best solution to solve your roofing and insulation problems.
How About Technology?
We have the most current state-of-the-art technology and equipment. We make it our goal to show the architects and engineers that SPF is on the top of the scale in terms of both effectiveness and environmental impact. We take this seriously and use this newest form of technology to teach and demonstrate the newest methods to achieve these results, but they aren't just results–they're BETTER results, through the use of sprayed polyurethane foam in place of old, conventional methods that just don't deliver.
What About the Training?
We continue to upgrade our skills through continuous training, getting certifications for our employees, maintaining up-to-date safety practices, and providing incentive programs for all employees. We take pride in treating our staff with respect and encourage the new ideas they may have to ensure we have satisfied our quality control that is ultimately what you expect.
We ensure we deliver everything by living through our mission statement, which reads as follows:
Canadian Spray Foam Solutions Ltd. provides sprayed polyurethane foam (SPF) solutions for all commercial, industrial, and residential needs. We specialize in providing first-class customer service through highly-trained and experienced operators. Our goal is to provide a long-term, cost-effective, and energy-efficient solution for all roofing and insulation needs.
So why take a chance on older, conventional, and less effective systems? Eliminate the risk and have Canadian Spray Foam Solutions Ltd. solve your roofing and insulation problems.