Sprayed Polyurethane Foam (SPF) System Used for Roofing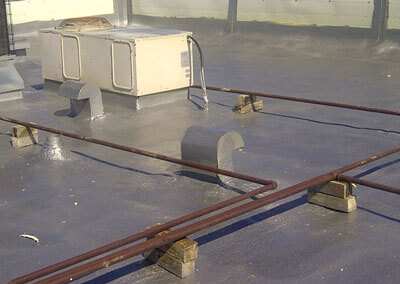 One of the best solutions for commercial buildings is the SPF system, which we use at Canadian Spray Foam Solutions Ltd. in Saskatoon. When compared to other roofing systems, an SPF system delivers a lower total life-cycle cost and allows property owners to realize a greater return on investment.
With energy savings becoming more and more important, SPF roofing systems have been proven to reduce energy costs more than any other system. This energy efficiency not only reduces costs year round but also makes a building more comfortable reducing noise from the outside.
Because of their monolithic composition, foam roof systems are more wind resistant. This means that foam roof systems are more likely to remain intact in severe weather conditions, meaning they have extreme resistance to wind lift, rain, and other elements with virtually no chance of leaking. Another big concern for building owners or tenants is construction downtime. With SPF systems, there will be no business interruption and no bad odor.
SPF roofing products are environmentally friendly because they are designed to reduce energy consumption, as well as reduce the carbon footprint of a building. We have SPF roofing systems that are LEED certified, ultimately saving the customer energy costs and saving the environment at the same time. Every time a roof is replaced with conventional systems, such as tar and gravel, TPO, and others, over 90 percent of the old roofing system hits the landfill. With SPF systems, 90 percent of waste will not go to the landfills.